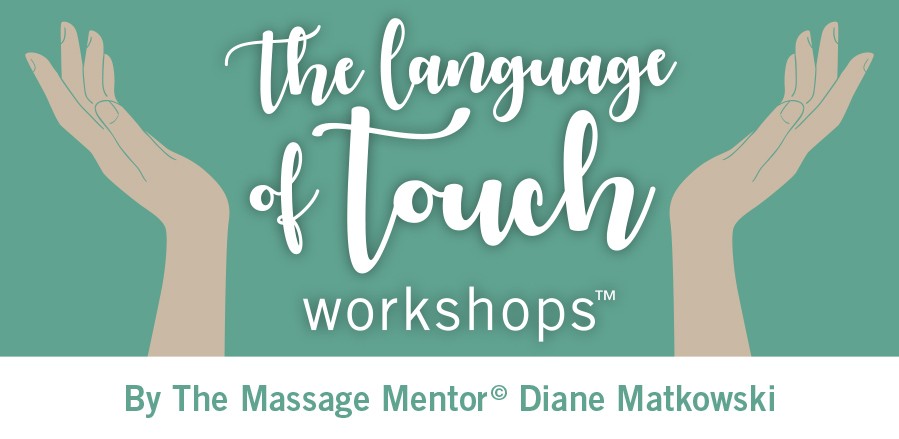 Therapeutic Couples Massage Class
Touch is a powerful tool to further everyone's relationship with their bodies and is an essential aspect of intimate relationships. Diane has been doing massage for over 20 years, she owns an award winning business, has authored a book on massage, has provided 20,000 "hands on hours" to clients, and given input to the most prominent workshop providers in self-care industry. Because of the rave reviews Diane has received from couples regarding her work, including those participating in the  Healing through Connection Workshop sponsored by Breakthrough at Caron, she has decided to offer classes in the local community and beyond.
The session will provide basic tools to enhance your relationship with your body, your partners body, and increase body awareness. The therapeutic touch shown in this class allows couples to connect physically in a non-sexual way, reducing stress, and building trust. Touch is also a tool to promote self-care together, showing affections mindfully, and communicating in a new way. Diane demonstrates and guides each couple in basic partner massage in a 90-minute session. Each couple remains clothed, this class will uphold the integrity of a professional massage atmosphere, and cater to the needs of each couple. You will not only learn basic techniques, but more about the body, self-care, and your relationship. Though the techniques will be basic in nature they will evolve for years to come.
Classes are currently limited to three couples per class at Freedom Massage in Malvern. Why not come for the class and leave with tools that will enhance your life forever?
Frequently Asked Questions
What will you need?
We wear comfortable clothing
We will be working on yoga mats or cozy blanket. The techniques you learn will be able to be done at home without a massage table.
We will start with some open discussion and begin with basic techniques. Throughout the session you are free to ask questions and you will be filled with information on self-care by Diane.
The class will be based on the group. Through my own self-care practice I find group actives accelerated my learning.  Meaning, each couple will have something to offer the other couples. If everyone is coming to learn, which we believe they will be, as a group more discussion will arise and more exploration of the techniques. It will strengthen the relationship of each pair.
You will need an open mind and open heart. The techniques you will be learn will be seeds to plant in the relationship, that with time and care will evolve as solid resources for the relationship.
If you desire you can bring your own yoga mat and pillows.
Who can come?
Anyone. This class is open to TWO people who want to learn more about self-care and how to use the language of touch in relationships
You can be in a relationship, you can be getting ready for a relationship, all you need is two people who would like to learn techniques together
This is not a class for massage professionals, but a class for the community
What is the goal?
To find ways to communicate with out words
Integrate valuable tools about learning how to receive and give care
To support one another in a new way
To get a new look at your relationship and discover ways to practice self-care together
To get the support of a group and an expert in massage/bodywork
To learn techniques to help one another will aches and pains
What is the cost?
The session will be an hour and a half, but could go up to two hours. The cost of the session for a couple is $135.
Where?
Freedom Massage, 8 Mystic Lane Malvern, PA 19355 or an announced alternate location
When
Our sessions for the community will Sunday's to be scheduled. Classes fill quickly and you will get options once to fill out your form.
Interested?
Fill out the form below and we'll get in touch with you.