Freedom Massage is an eight-time award-winning establishment for BEST massage. We are owned and operated by a massage therapist who has been practicing massage for over 25 years. She understands client needs AND therapist needs.
We cater to massage enthusiasts who understand the difference between an average massage and an excellent massage. We are a group of highly trained massage professionals who enjoy working with many families in our community. We welcome you to come to enjoy the warm and peaceful environment found exclusively at Freedom Massage.
Freedom Massage has been providing massage to clients in the Malvern, West Chester, Exton, Downingtown, Paoli, Chester County, and the Philadelphia area for over 25 years.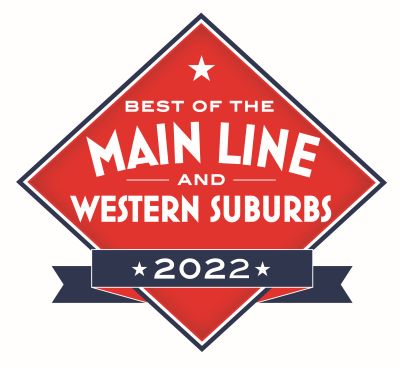 Meet the Owner
Diane Matkowski, LMT, HHC
Diane has been practicing massage for more than 25 years. Watch a video of Diane explaining why Freedom Massage has become an award-winning business. Freedom Massage has grown primarily from happy clients spreading the word throughout Chester County. Diane and her team have celebrated several awards for BEST massage in the region by local voters.
Diane is an NCBTMB approved continuing education provider. In 2006, she published her first book, The Body Is Art: A Mentoring Guide for Massage and Bodywork. Diane has also written articles and been featured in MTJ magazine, Massage magazine, Massage and Bodywork, Massage World, Different Strokes, Main Line Today and the Daily Local News. She has been a blogger for EmmeNation, an online forum and trusted resource for women. In 2010 she was the Official Massage Practitioner for the women's professional soccer team, the Philadelphia Independence. She has also been an active participant in childbirths as a coach and massage therapist helping women give birth naturally.
She recently finished her second book, The Massage Therapist's Guidebook, which as been approved by the NCBTMB as a home study course toward CE's. Learn more about The Massage Therapist's Guidebook. She also provides mentoring for massage therapists nationwide on her closed Facebook page for massage therapists The Massage Mentor Closed Group. On the page she interviews legends in bodywork like Master Ohashi, Til Luchau, Erik Dalton, The Rebel Massage Therapist, David C. Morin, Maria Natera, James Waslaski, Ben Benjamin, Kumu Brenda Mohalapua, Whitney Lowe, Paul Kelly, and more….
She works closely with leaders in the addiction recovery field and has provided massage and workshops as therapy. Diane works with couples at Breakthrough Healing through Connection Weekend at Caron and provides a new angle on how couples can communicate.
Currently, Diane is not taking on new clients. 
Diane makes sure her therapists receive additional training from her experience and massage legends such as James Waslaski and the Rebel Massage Therapist.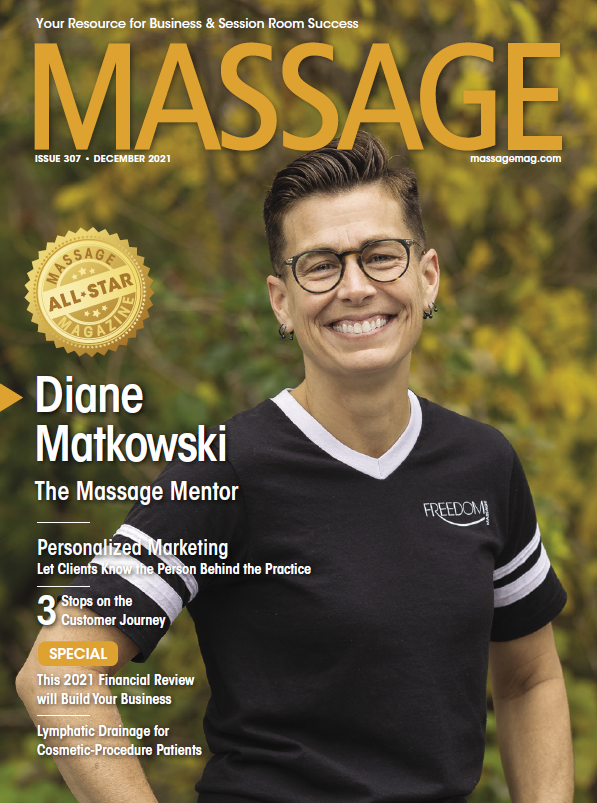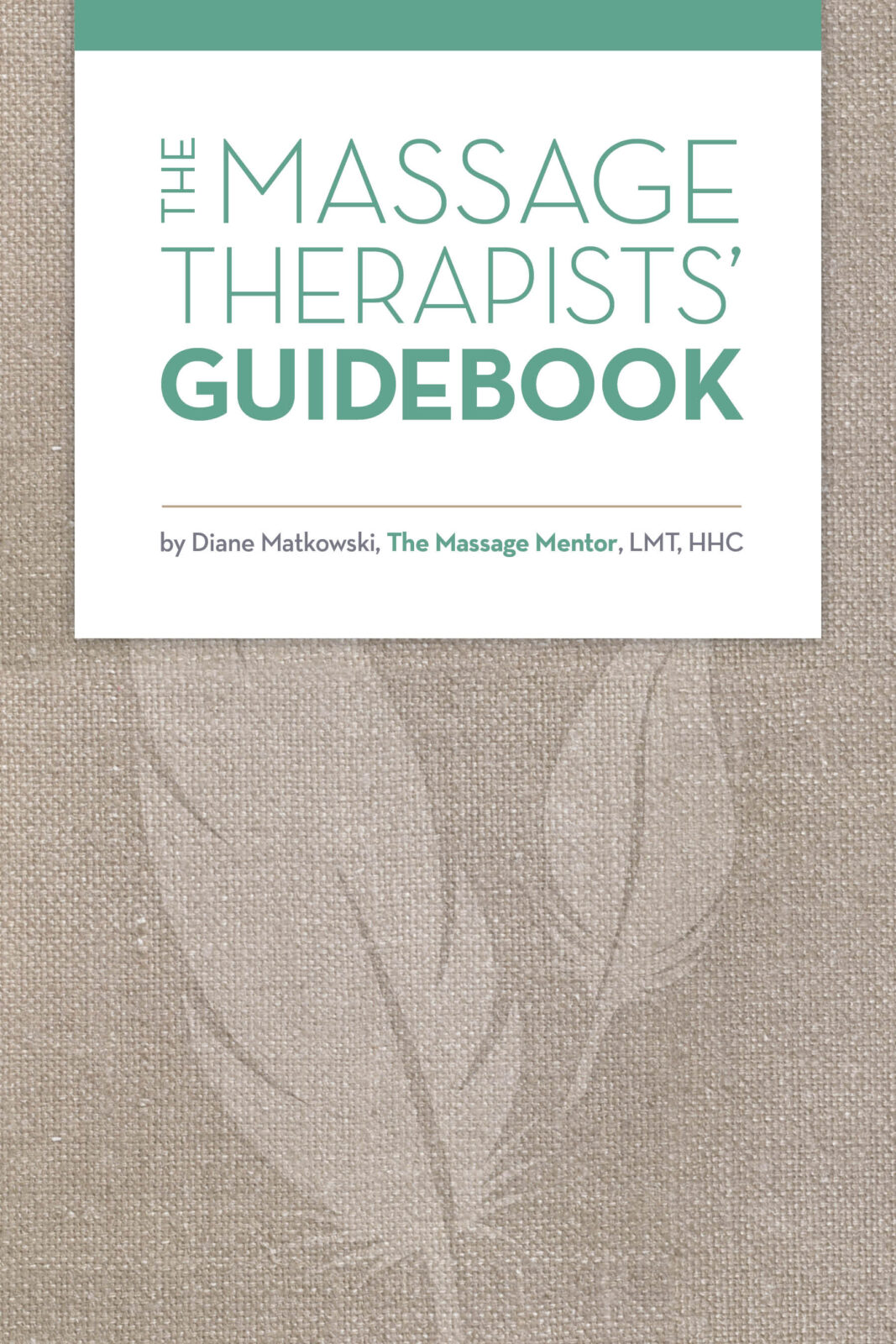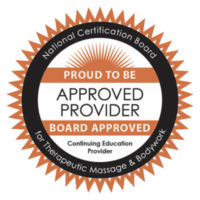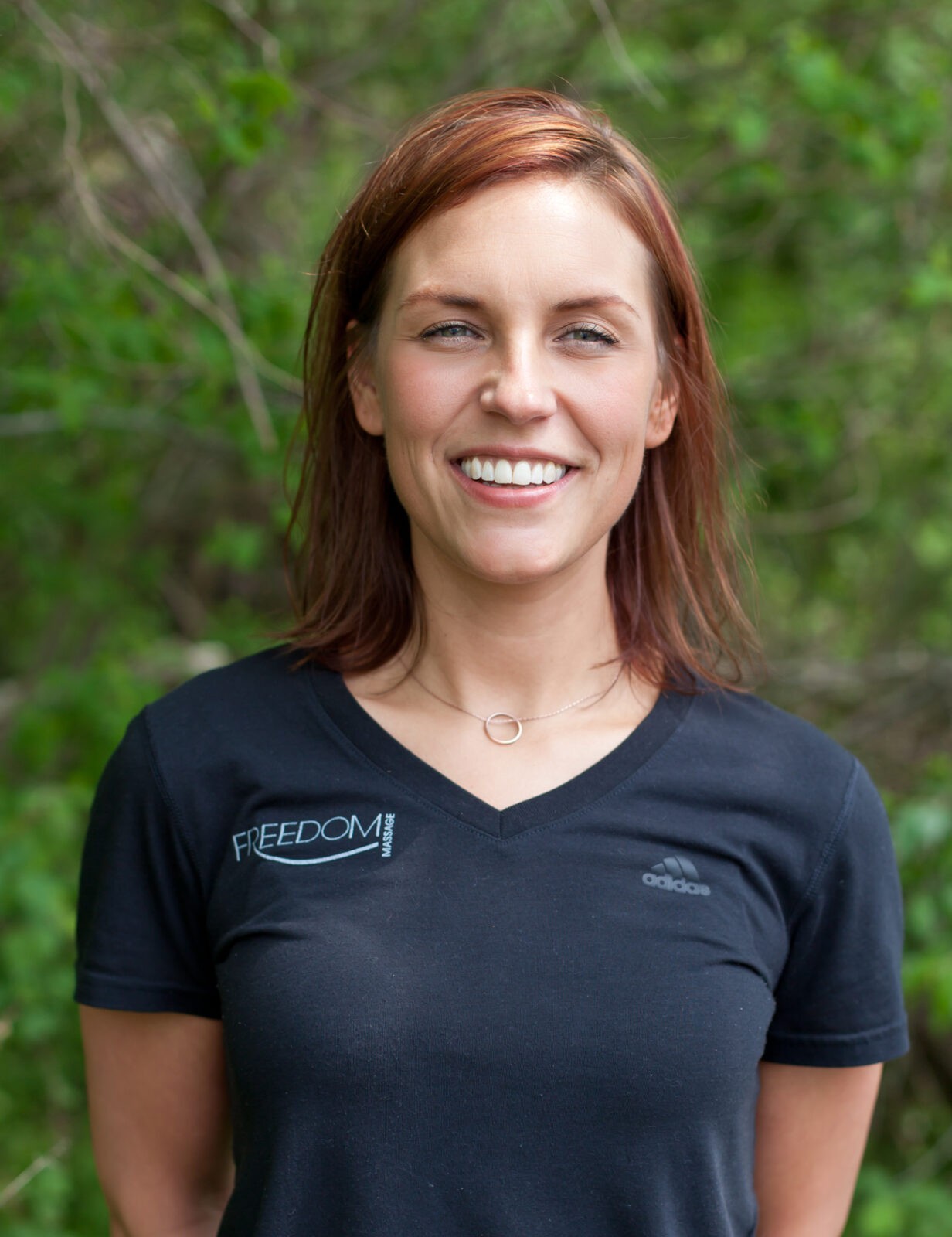 Alicia, LMT, Approved Continuing Ed Provider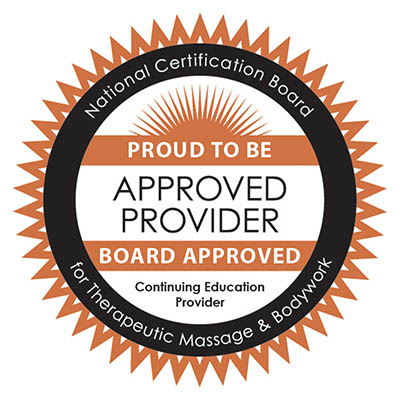 Alicia is an NCBTMB Continuing Education Provider with Freedom Massage. Upon graduating from Cortiva Institute in 2011, she became Nationally Certified in Therapeutic Massage and Bodywork, and she is a current member of ABMP. Over her
years of practice, she has pursued advanced trainings in both corrective modalities and Eastern bodywork techniques. Alicia integrates a unique blend of techniques and rhythm into each massage session, drawing from her diverse "tool bag" of hands-on training and experience. She has completed coursework with world-renowned leaders in the bodywork profession, including private trainings with instructors James Waslaski (Orthopedic Massage), Mukti Michael Buck (Vedic Thai Yoga Bodywork), and Master Ohashi (The OHASHI Method® for a Healthy Pregnancy, Oriental Diagnosis); additionally, she has studied integrated approaches to fascial work with Integrated Natural Health (Cross Fiber Techniques, Yin Myofascial Integration Immersion) and Wolfgang Luckmann (Tui-na – Anma and Chinese Medical Massage). She is certified in
Cupping and Gua Sha therapies and provides Swedish relaxation, Deep Tissue, the Freedom Massage, Pregnancy sessions, and she is comfortable working with minors. She will go deep without intense pressure. Alicia is an avid reader and is continually exploring models of wellness and balance across cultures, disciplines and therapeutic practices to bring deeper insight into each session. Alicia truly exudes love for her work and connects deeply with her clients. She is passionate about helping people to work through "issues" with which they present each session as well as to achieve deeper connection to their bodies and experiences. After a few years of search and experience, Alicia has happily planted roots at Freedom Massage and loves how it has "the best of" everything she loves about massage. She is brilliant, and we are honored to have her here! She is our first NCBTMB teacher under our Owner Diane. She has already begun writing classes with the Owner and will be providing Continuing Education for Licensed Massage Therapists. Please inquire via email freedomscheduling@gmail.com about offerings for both live and Zoom Ethics classes, or to arrange a private class for your team.
Alicia's Hours: Monday, Wednesday – Friday daytime: 9:30a-2:30p / every other Saturday 10:00a-4:30p
Read a Q&A with Alicia
How has massage changed/influence your life?
I cannot think of a facet of my that life has NOT been influenced or changed by massage! My personal physical health and wellbeing continue to improve over my years of practicing; I have become far less stressed and more mellow and flexible as an individual. Through my practice, I have become a better communicator (both listening and speaking) with others and continue to see growth here all the time. Most significantly and for what I am most grateful, massage helps me appreciate ALL INDIVIDUALS.  Intangibly, massage has brought me to a better understanding of myself, my past experiences, and my priorities; and it has shifted my thinking process from finding answers, knowing, and fixing toward a mindset of making connections and correlations.
What style of massage do you prefer giving and receiving?
My favorite style of massage to give is a blend of myofascial and rhythmic techniques. Myofascial techniques, both subtle and deep, are my favorite to receive. When intention is shifted from working a specific tissue/muscle/structure to working within the SYSTEM of connection encompassing all tissue, I find more significant release occurs and often the release(s) lasts longer.
What do you do for personal self-care?
Over the years, I have incorporated many practices into my daily routine and have made lifestyle changes as well to better care for myself and be able to enjoy my life to its fullest. Some practices I follow daily, others as often as possible.
Daily: Spiritual practice of both prayer and meditation, exercise (resistance band strengthening, HIIT-style circuit training, and walking), a minimum of ten minutes of self-massage, stretching and range of motion ongoing throughout my day, listen to music and sing/dance along, drinking lots of water, reading for pursuit of knowledge, ENJOYING TIME WITH MY FAMILY
Lifestyle: Eat mostly vegetables, grains, fruit and nuts (rarely consume meat and even more rarely dairy and eggs, >1 serving/week); prepare most of my own food daily; often drink only water, black coffee, unsweetened tea on a daily basis; very limited use of handheld tech devices and a very limited online presence; continually reading something for pleasure; regular date nights and healthy intimacy with my husband; salt baths; MASSAGE; salt floats
Why did you choose Freedom?
I initially chose to pursue Freedom Massage for employment because of two things: I was impressed and intrigued by the video of Diane on the website, and because an old friend and coworker from a prior position was a Freedom therapist and RAVED about working here. Every day I choose Freedom again because of the many (and ever-growing) list of reasons that so closely align with my personal priorities and ethics. Here's a short list, just to name a few:
IT FEELS SO GOOD INSIDE THE WALLS!
I am heard by my boss and told regularly that I am appreciated
I feel respected by my boss, coworkers, and clients
I have worked in other settings/environments in this profession and have seen "other ways"
Freedom Massage is a CLIENT-FOCUSED business
What makes Freedom Massage different?
Freedom Massage has been built by an owner who is a massage therapist; she understands the "job" and the many balances involved in creating an EXPERIENCE for clients each and every session. This business is CLIENT-FOCUSED and the therapists are HAPPY and well-cared-for. The staff here all work with the highest degree of professionalism and integrity I have ever experienced throughout my entire employment history, including work outside of this profession. ALL of the reasons that I choose to work here, which I listed in the previous question, are also parts of what makes Freedom Massage different.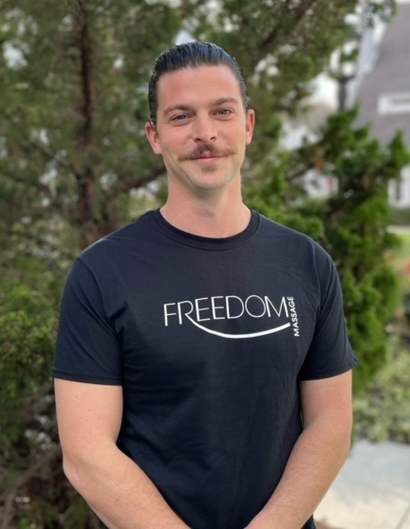 Andrew, LMT
Andrew is a graduate of The Academy of Massage Therapy & Bodyworks and is a member in good standing with the ABMP. He has previously worked as an IT Project Manager for five years and as a tour guide department manager in rural China for three years. He has found the study of bodywork and anatomy to be immensely rewarding – everybody has a body, and the business of getting better at helping others and understanding the human body is very satisfying.
He continues to learn and improve his practice through learning and integrating various modalities, including (so far) Forearm Fusion, private training in Integrated Manual Therapy and Orthopedic Massage with James Waslaski, and Myofascial Swedish.
Andrew is an intent listener, and with each and every session, wants to understand how one's goals and needs change – and selfishly, what he can learn before your next session to become even better. He can provide deep pressure without pain, and blends focused, therapeutic treatment with a soothing flow.
Andrew's Hours: Wednesday 9:30a-2:30p / Thursday 3:00p-8:30p / every other Tuesday & Friday 3:00p-8:30p / every other Saturday 10:00a-4:30p
Read a Q&A with Andrew
How has massage changed/influenced your life?
Massage provides a unique opportunity to align community service, creativity, and continuous learning into the wonders of the human body. Since the first day of massage school I have been impressed by the community attracted to this profession and their diversity of experiences, professional massage goals, and above-average empathy. Being surrounded daily by knowledgeable and experienced therapists who welcome questions and discussion is immensely satisfying and helpful for my own growth.
What style of massage do you prefer giving and receiving?
Prior to massage school, the only "professional" massage experiences I'd had were of TuiNa (Traditional Chinese massage) while living in China (5 years). I'm incredibly interested in experiencing all modalities that  are out there, but generally prefer deeper pressure for myself, and I find the most interesting massages are those from practitioners who adapt and integrate their education with their individual style.
What do you do for personal self care?
Generally what recharges my batteries the most is hiking, biking,  camping, mushroom foraging, reading, and spending time with friends and family. I am also more and more appreciative of yoga and other flow arts with my continuing education of anatomy and kinesiology.
Why did you choose Freedom?
The principles and values of Diane and her team emphasize compassion and listening, continuous education, and offers incredible opportunities to improve as a therapist alongside other dedicated professionals. I have previously worked around 98% remotely as an IT professional in the Life Sciences (5 years, before work-from-home, was popular or necessary), and while I value my independence greatly, the opportunity to be surrounded by a creative team who love continually getting better at helping others is a valuable experience that brings me so much joy.
What makes Freedom Massage Different?
I think the values of the team at Freedom are so unique and focused on professional competence at the highest level, that it brings me both personal and professional pride to count myself as a team member.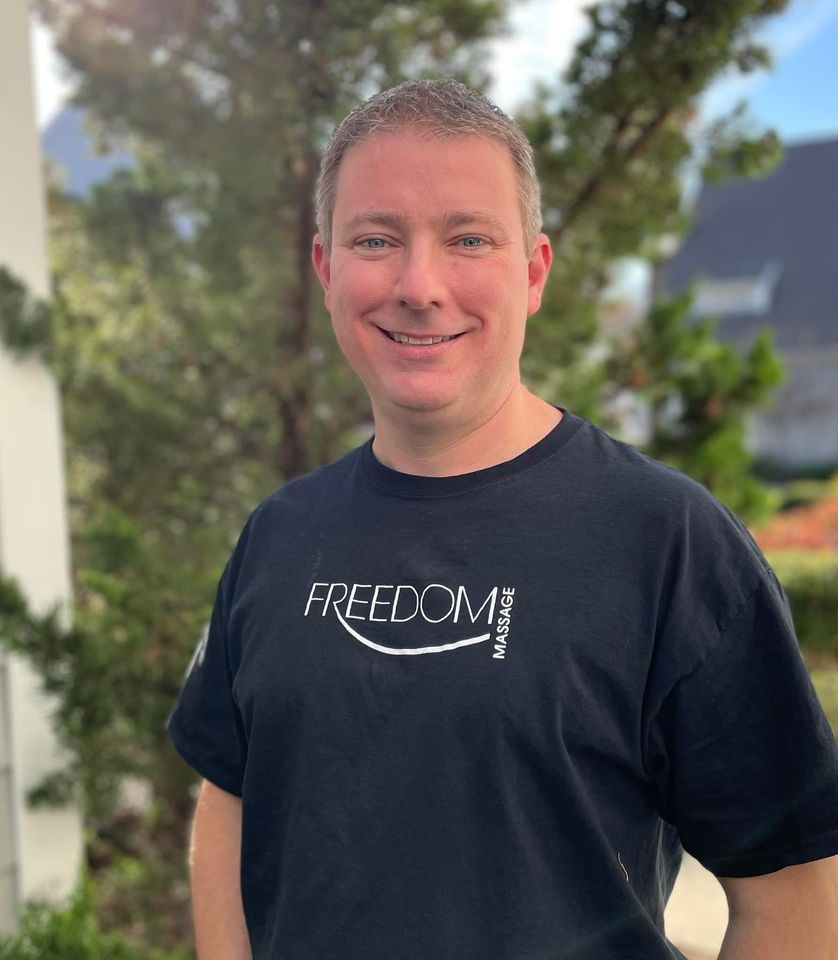 Brandon, LMT
Brandon is a graduate of the Academy of Massage Therapy and Bodyworks and a current member of ABMP. He has taken additional courses in the Forearm Fusion technique and the Lomi Lomi style of massage.
As a graduate of West Chester University, the Pennsylvania State Police Academy and the FBI National Academy, Brandon spent over 30 years serving the community in the field of law enforcement and emergency services. Upon retiring, he wanted to continue to find a way to help others. Having used massage as a major source of stress relief and relaxation in his own life, he saw this as an excellent way to stay active and healthy while also helping others relieve tension and provide a relaxing escape from their own stressful, hectic lives.
While Brandon's primary techniques focus on flow and relaxation in a Swedish style, he works with each individual client to identify and address areas of concern and he can provide a very technical, deep, therapeutic massage as well. Brandon is thrilled to be joining the team at Freedom where he can continue to learn from a great group of therapists and share his skills with the Freedom Family of clients.
Brandon's Hours: Monday 3:00p-8:30p / Thursday 9:30a-2:30p / Tuesday hours alternate (daytime & evening)
Read a Q&A with Brandon
How has massage changed/influenced your life?
As someone with a high stress job where I was on call 24/7, massage offered me the opportunity to step away from the chaos and take a break for myself. For the time that I was in a session, I was able to clear my mind of all those things and just relax. Coming out of massage, I always felt refreshed and reenergized.
What style of massage do you prefer giving and receiving?
My personal favorite massage to receive is the basic Swedish style intended for relaxation. I especially like long, flowing strokes that give you a nice stretch while still having deeper, focused work where necessary. I recently had the opportunity to experience Lomi Lomi massage and was immediately drawn to the rhythmic, flowing nature of the massage and began my studies of this modality to see how I could incorporate this into my work. By learning many different styles and mixing these different aspects into a massage, I think it allows me to create a unique experience that meets each client's individual needs.
What do you do for personal self care?
I try to make sure I complete at least 3 strength training and core workout sessions per week. While things can get a little busy at times and this doesn't always happen, the one routine I can never miss is my daily walk. My training partners (my two dogs) make sure we never miss our daily walk on the local nature trails. I also schedule regular massages and take advantage of the heat and hydrotherapy aspects of a hot tub.
Why did you choose Freedom?
As a student, you are introduced to many different leaders in the industry. You also meet other therapists from all over the region. What I quickly noticed was that Freedom Massage often came up in conversation, not only for the quality of their therapists but also for the world renowned therapists that they worked and trained with. It was clear that Freedom ensured their therapists were well trained and they worked to ensure they remained among the leaders in the industry. After meeting Diane and Eugenia, I immediately felt welcome and knew that it would be a great environment to work in, while also helping me become a better therapist.
What makes Freedom Massage Different?
Its natural for a business to be client focused, but at Freedom, Diane is client and therapist focused. Not only does Freedom ensure the best possible experience for their clients, they make sure their therapists are provided with everything they need to help make that client experience better. By ensuring the well-being and continued training of the therapists, Freedom ensures the therapists are able to assess and address each individual client's needs.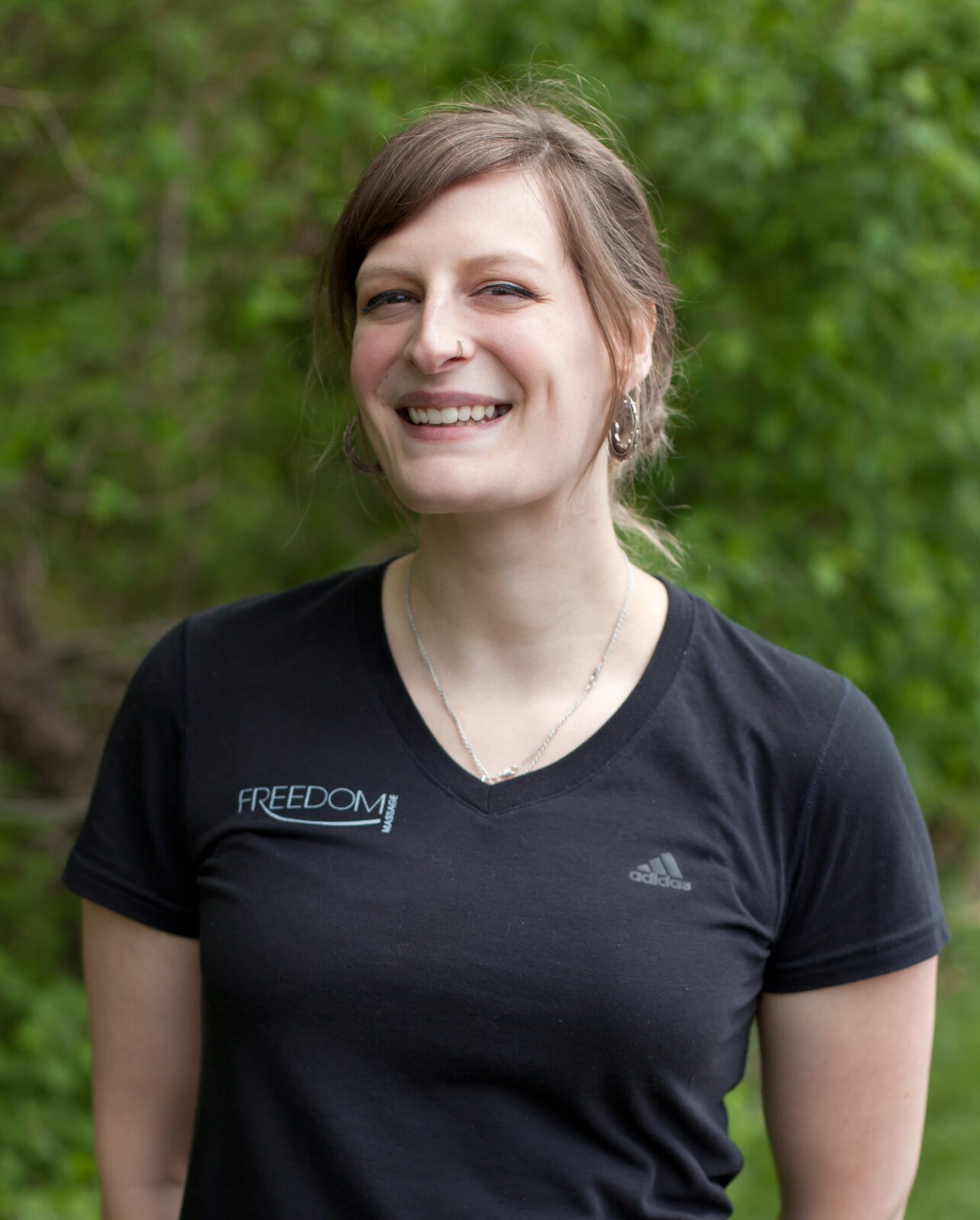 Molly, LMT, Approved Continuing Education Provider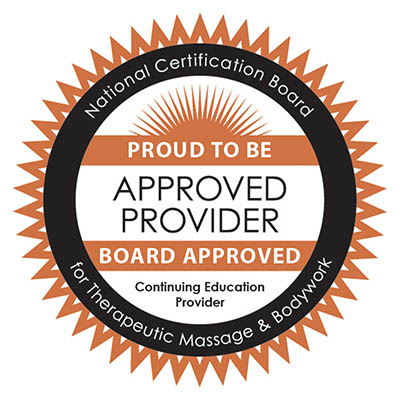 Molly was inspired by massage to do so much more. She started out as a Licensed Cosmetologist and it was there she got a taste of what bodywork could be. After some time, she took it upon herself to follow through with what she always felt she wanted to do, become a Licensed Massage Therapist. While at Cortiva Institute training for her License she met Diane, the Owner of Freedom Massage, and knew that she would be the person to guide her through this field. Almost immediately after receiving her License she began work at Freedom Massage and hasn't looked back since! She has completed several private trainings with her peers at Freedom Massage: Integrated Manual Therapy and Orthopedic Massage with instructor James Waslaski; Vedic Thai Yoga Bodywork with Mukti Michael Buck, The OHASHI Method® Bodywork and The OHASHI Method® for a Healthy Pregnancy with Master Ohashi; as well as a private class with YouTube icon The Rebel Massage Therapist, learning more techniques for the neck. Molly is also certified in Cupping. She will provide you with power and grace. Molly provides Swedish relaxation, Deep Tissue massage, Pregnancy massage, and the Freedom Massage. Molly is also a certified Oncology Massage Practitioner (approved by Society for Oncology Massage S4OM.org), currently the only one with Freedom Massage. Since joining the team, she has been getting rave reviews and is a great resource in community outreach events. She is powerful, smart, and has a wonderful sense of humor. Her massage has taken quantum leaps at Freedom Massage, she is strong and will also put you in a trance. We are all amazed by how Molly continues growing into an even more solid massage therapist. Book as many appointments as you can while you are here, they will not last.
Molly's is no longer taking new clients. Please call to get on her waitlist.

Read a Q&A with Molly
How has massage changed/influenced your life?
Massage has truly opened up a new avenue of life for me. Prior to finding massage I was stuck in a rut of a career, with no real future or potential to expand, and it soon became monotonous and frustrating. Massage was something I always had in the back of my head, always a yearning to learn. One day I just took it upon myself to check out the closest and most well-known massage school near me which happened to be Cortiva. That day after the tour I enrolled myself on the spot; it didn't take much thought and it was the most freeing and most sudden life decision I've ever made, one that changed my life for the better. Once in school I got more into yoga, understanding the body, stretching and eating better. It was like a light finally went off and I felt for the first time I had a real purpose and was beyond excited to put everything into action. Since then I enjoy life so much more both through work and on a personal level.
What style of massage do you prefer giving and receiving?
The style of massage I like to give varies day by day: I am always open and willing to roll with any modality and pressure range the client is feeling, although my favorite is always The Freedom Massage — this also goes for receiving! There's something about addressing problem areas with both deep and relaxing work. Sometimes the body, I feel, can only take so much and needs a little TLC as well, so good solid pressure and a relaxing vibe always makes my day.
What do you do for personal self-care?
When it comes to personal care there's nothing better than just taking a deep breath and allowing yourself to do nothing! Yes, of course I get my stretching, massage and workouts in throughout my busy weeks, but my favorite thing is to let my brain and body chill out by sitting outside in the mornings on my porch with a cup of coffee, just doing nothing and taking in the day. You'd be surprised I'm sure that my self-care is so simple, but my brain always seems to be going constantly and this little morning meditation time by myself, sometimes with my cat, is a really great kick start to my days.
Why did you choose Freedom Massage?
While in school at Cortiva Institute for massage my very first teacher there was so excited to share with us that we had a special guest coming in to speak. After asking more about it I found out that the speaker was going to be Diane, the owner of Freedom Massage (and now my boss!). The way my teacher spoke about her I was enthralled, I knew this was someone I had to work for. The day of the talk I made sure I had my resume' prepared and listened intently to everything Diane had to say. It was with a shaky hand and big smile I introduced myself and passed over my resume' even prior to graduation. After that point any time Diane came in or spoke at Cortiva I made my presence known until my graduation and passing of state boards. I was finally given the opportunity to work for my first and only choice and I am beyond fortunate to be at such an awesome place surrounded by other like-minded and driven women.
What makes Freedom Massage different?
Freedom Massage is something truly unique. I say "something" because it's not just a place, it's so much more. Freedom Massage is a family of well-educated, determined and loving therapists, all with their own style and views, yet who still mesh beautifully. It's somewhere you can come as a client for the first time and be treated like you've been coming for years. I believe we proudly distinguish ourselves not only by the talent of the owner and therapists, but by the friendly and open nature of the studio. Equal parts professional and comforting, I haven't been to any other place with the warmth that comes from here.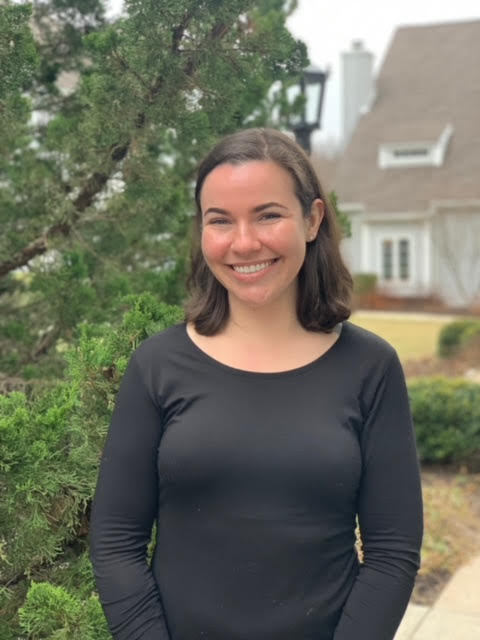 Nicolette, LMT
Nicolette is a graduate of the National Holistic Institute in Santa Ana, CA, and is a member in good standing with the AMTA.
Originally from California, Nicolette was working in Advertising when she decided she needed to do something more gratifying with her life. Around this time she had her first ever massage, and it sparked a fire in her. The combination of the calm environment, the mental and physical challenge, and helping others was exactly what she had been searching for. She graduated NHI's 900 hour core massage program in 2014. As she began working as a therapist, she realized there was still so much to learn. This led to her continuing her education with NHI's 450 hour Advanced Neuromuscular Therapy program where she was lucky enough to learn from former AMTA president and renowned Massage Therapist, Cynthia Ribeiro.
Nicolette's style of massage is a combination of the many modalities she learned in school. Nicolette's goal for her session is always relaxation with a therapeutic focus. She loves longer sessions that give her time to hone in on her client's needs. She is passionate about working with her clients to address their needs, and educating them on things they can do to best support their muscular system.
Nicolette is no longer taking new clients. Please call to get on her waitlist.

Read a Q&A with Nicolette
How has massage changed/influenced your life?
Massage has changed my life in every possible way. It gave me a profession that I am deeply passionate about. It gave me an understanding of how my own body functions. It introduced me to some of the best people I know, and ultimately brought me to Pennsylvania. I am so grateful to give back in a field that has given me so much.
What style of massage do you prefer giving and receiving?
I love to receive all kinds of massage. Experiencing new modalities always inspires me in my own practice, and reminds me how much there still is to learn! I love giving therapeutic massages, and often use trigger point therapy and myofascial therapy with Swedish strokes to warm and relax tissue.
What do you do for personal self care?
I am big on drinking lots of water, stretching, and receiving massage as often as possible to keep myself in fighting shape. I recharge my batteries by cooking, hiking, biking, and spending with my husband and three cats.
Why did you choose Freedom?
I chose Freedom because I wanted to surround myself with therapists who would help me continue to learn and grow. I am proud to work in a place where everyone holds themselves to the same high standards that I do.
What makes Freedom Massage Different?
Freedom Massage is different because the focus is on excellent service, and making every client experience as relaxing as possible from start to finish. As therapists, we are empowered to do whatever we can to make our client's experience an excellent one.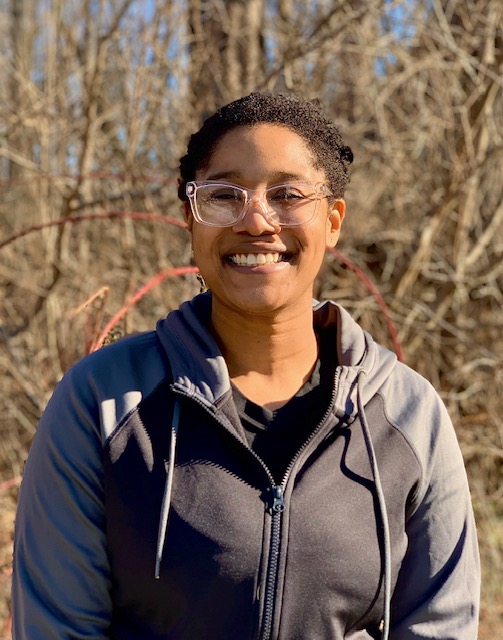 Nyia, LMT
Nyia has been a massage therapist for over four years and is in good standing with ABMP. After years of working in customer service positions, Nyia started with massage therapy because of the rapidity of growth in this industry and loves to help people. The first time she worked on a client, everything clicked into place, and she knew she chose the right career path. She loves working with people and finding new ways to ease the aches and tension of people's everyday lives. She is very intuitive, bound to find that sore spot before you even tell her where to look. She usually works with deep pressure and therapeutic clients but has also been trained in manual lymphatic drainage. Nyia is certified in Cupping. She also does Swedish, sports, deep tissue, and Freedom massages. She feels grateful and honored to be a part of the Freedom Massage team. Working on a team with such talented and learned massage therapists has helped her grow and hone her skill. Nyia's intuitive flow and warm personality will assure you that you are in good hands!
Nyia's Hours: Wednesday 9:30a-2:30p / Thursday & Friday 3:00p-8:30p / Saturday 10:00a-4:30p
Read a Q&A with Nyia
How has massage changed/influenced your life?
Massage has helped me become more in tune with what my body needs and how it feels. It has also helped me become more confident in myself. Believing in the work I do has given me a confidence I never would have found if it weren't for massage.
What style of massage do you prefer giving and receiving?
My favorite type of massage to give would be therapeutic massage. I try to listen to the muscles, and give them what I think they need most after discussing the needs of the client. I love working with clients over a span of time and really seeing the changes in their bodies and overall mindset. I like the same massage for myself. I always enjoy a good deep pressure massage where the therapist just knows intuitively where to go and the best course of action to take to help relieve the tight muscles.
What do you do for personal self-care?
Staying stress free and relaxed are always some of the best self-care strategies anyone can take on. If I am fully present during a massage, it will always be a great session. I also like to do a lot of stretching and icing of the wrists regularly. And of course getting a consistent massage at least once a month! I can really feel when it's time for me to get another massage, so I like to get in as often as possible.
Why did you choose Freedom Massage?
After reading Diane's book, Massage Therapists Guidebook, I knew I had to work at Freedom Massage. She has so many insights on not only massage itself, but life in general. She is a wealth of knowledge and loves to share that knowledge with her team.
What makes Freedom Massage different?
Freedom's commitment to their client base is unprecedented. The client always comes first at Freedom, and Diane has done an amazing job designing her business to make clients feel comfortable, relaxed, and welcome. With her experience, Diane has cultivated such an amazing team of massage therapists dedicated to working together for the betterment of our client base.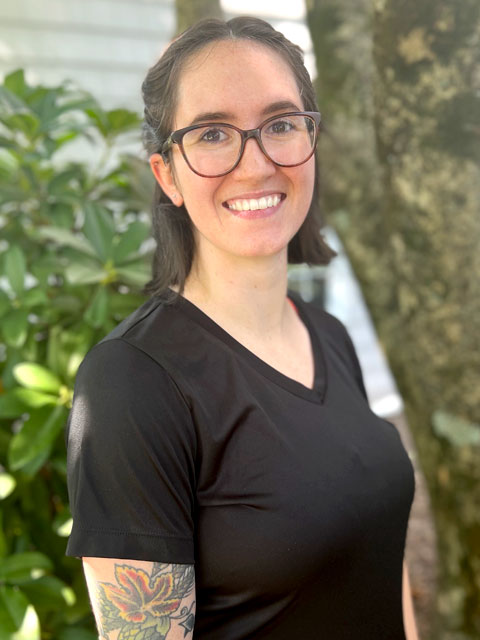 Paige, LMT
Paige is a graduate of the Therapeutic Massage program at Anne Arundel Community College in Arnold, MD, and has been a good standing member of AMTA since 2012.
She discovered massage therapy just as she graduated high school, and enrolled in the local program before she even had a massage! Everything about massage therapy was appealing and braided into her interests as an athlete, an artist, a hands-on learner, and a people person. She has been providing massage between her home state in MD and her new home in PA for the past 10 years and could not imagine life any other way! Paige has trained in many modalities, though she mostly utilizes Swedish, Deep Tissue, Myofascial Release techniques, Prenatal (or side-lying), and Cupping, and typically will incorporate elements from each of these into her sessions. Over the years, Paige has taken classes with Tracey Moon, Vanessa Hazzard, Bradford Nicarry, and Jim Earley, among others.
Paige's Hours: Thursday 3:00p-8:30p / Friday 9:30a-2:30p / every other Saturday 10:00a-4:30p
Read a Q&A with Paige
How has massage changed/influenced your life?
Massage has been the greatest intersection of some of my favorite things in life: helping others, the human body, movement, problem-solving, and creativity. I'm grateful not only to have found it as something that brings me joy but also provides for me.
What style of massage do you prefer giving and receiving?
I love to blend styles so that each client gets a healthy balance of relaxation and long-term, tangible results. I think the best therapeutic work is done when clients are most comfortable. As far as receiving massage goes, my type can fall anywhere between wanting to experiment with new modalities I've never tried and just a nice simple Swedish that will put me to sleep. Really, I just like all bodywork!
What do you do for personal self-care?
I do what I can when I can, so it looks different daily. Sunshine, water, rest, and fresh air are my simplest answers but I think movement and good food make me feel my best! All that, plus as much massage as I can accommodate.
Why did you choose Freedom?
I chose Freedom because as someone who has worked in just about every corner of the massage industry, I wanted to settle somewhere without all the distractions that can come with working in retail, medical or spa environments. At Freedom, the only priority is to ensure you receive the best massage possible! A studio operated by a therapist was my ideal home. Still, the fact that Diane is an award-winning educator who supports a staff of equally knowledgeable, accomplished, and talented people makes it all the better. Having access to so many resources makes a difference in how we can best provide for our clients.
What makes Freedom Massage Different?
Freedom has an indescribable atmosphere that I think comes from a few places – it's the cozy presentation of the studio itself, it's the warmth and dedication to service all the therapists bring to their table, it's the tools and accommodations available to maximize your comfort (including but not limited to the reclining tables and every pillow, bolster, and prop known to therapist-kind!) It is a perfect combination that makes for a great experience every time, no matter who you pair with.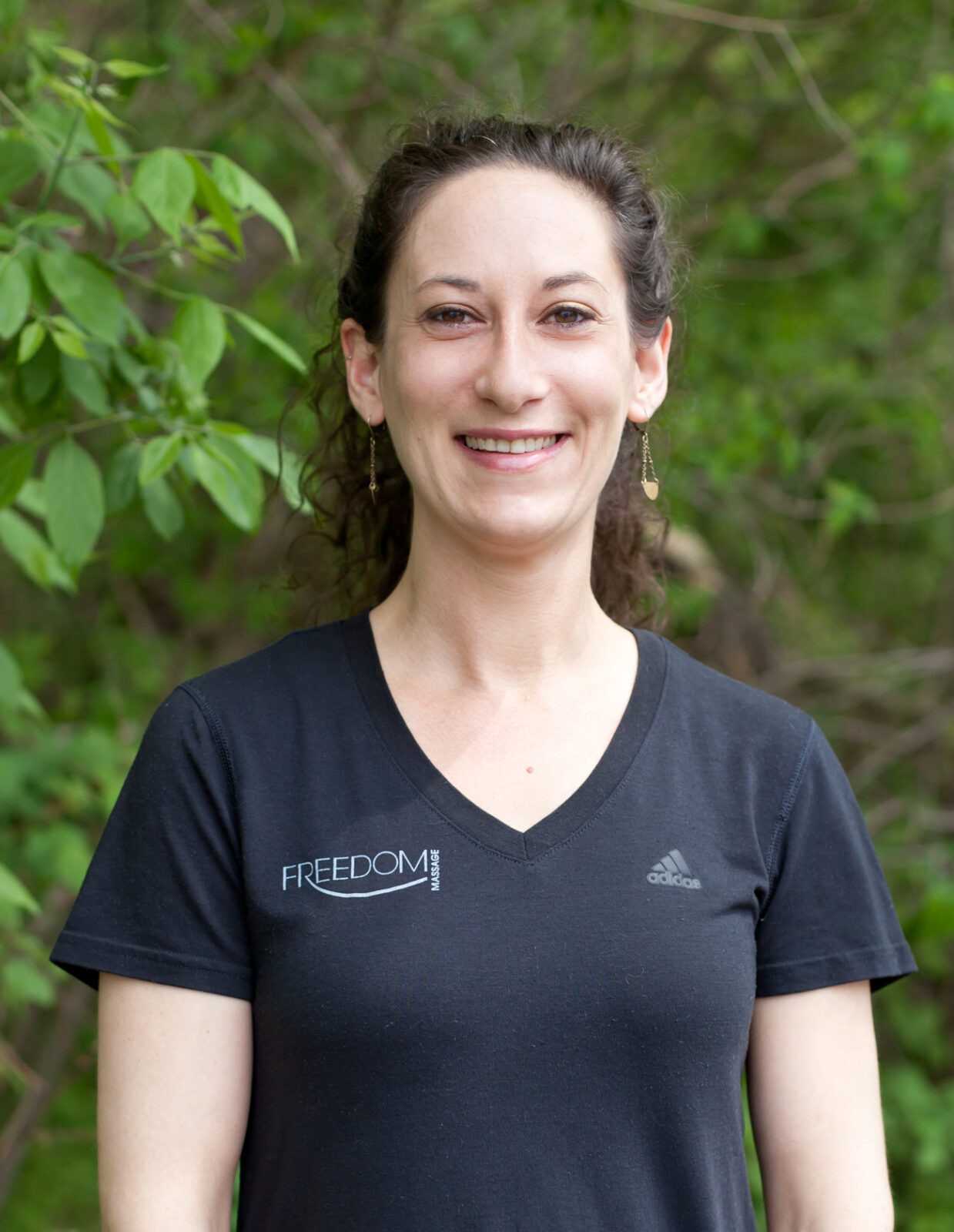 Sarah, LMT
Sarah graduated from Cortiva Institute and is a member of AMTA. After a decade of working retail, Sarah decided she needed a career that felt more meaningful, something to bring her back to her early roots as a dancer. Through practicing the art of bodywork, Sarah found a renewed connection to her love of bodies, movement, the mind, and how these all work together. She has completed several private classes with Freedom Massage: Integrated Manual Therapy and Orthopedic Massage with instructor James Waslaski; Vedic Thai Yoga Bodywork with Mukti Michael Buck; The OHASHI Method® for a Healthy Pregnancy with Master Ohashi; as well as a class with YouTube icon The Rebel Massage Therapist, learning more techniques for the neck. She is also certified in Cupping. Sarah can provide Swedish massage, Deep Tissue, the Freedom Massage, and Pregnancy sessions. She is also comfortable working with minors, and loves to help clients (especially those new to massage!) feel understood, comfortable, and prepared for receiving a great bodywork session. She is happy she found Freedom right away upon graduation and is honored and proud to call "The Freedom Family" her own. She is a joy to be around, clients love her, and she has created a steady following at Freedom Massage. She is thoughtful, accommodating, and extremely talented. She can give a deep pressure massage. Sarah has a heart of gold, and we are honored she is with us. Book out your appointments if you can find one.
Sarah's Hours: Monday 3:00p-8:30p / Tuesday, Wednesday, Friday 9:30a-2:30p
Read a Q&A with Sarah
How has massage changed/influenced your life?
Becoming a massage therapist has given me work I love! This career has also allowed me to express my care-giving nature, helped me slow down and notice my own body's needs, strengthened my awareness of the mind/body connection, and provided a more healthy work/life balance.
What style of massage do you prefer to give and receive?
I enjoy working on some areas of focus while also giving the rest of the body care, to bring a connection throughout the body. This is usually the type of work I want to receive as well. I also love the subtlety of myofascial work, the feeling of deeper releases with an initially less deep pressure/touch. It is important to me, both for clients AND my own body, to acknowledge that we are different each time we come to the table and to allow ourselves a shifting nature to what we need each session. I really enjoy prenatal sessions as well!
What do you do for personal self-care?
DEFINITELY regular massage!! I try for at least once a month. In all honesty, self-care is something I often struggle with, so a lot of my self-care routine involves trying to slow down, drink enough water, get exercise, and remind myself to love myself as much as I love others.
Why did you choose Freedom Massage?
I received my first massage ever at Freedom Massage a decade before I knew I'd go to massage school. I didn't want to work in a chain location, wanted something more local and small business oriented, and knew of Diane/Freedom through the community and school. It wasn't really an option in my mind to work elsewhere, so I'm glad I was able to find a home here at Freedom!
What makes Freedom Massage different?
So many things! We are a tight-knit, drama free group that supports each other! Our owner, Diane, has been a practicing massage therapist for over 20 years, so we get constant mentoring from her which is invaluable. I feel we are given the time and ability to show each client individual attention, adjusting sessions to their particular needs, rather than placing them in a cookie cutter mold. We are given the ability to be involved with ideas and the day-to day function of the business, and I think this allows each one of us to be invested, responsible, and proud of the work we do!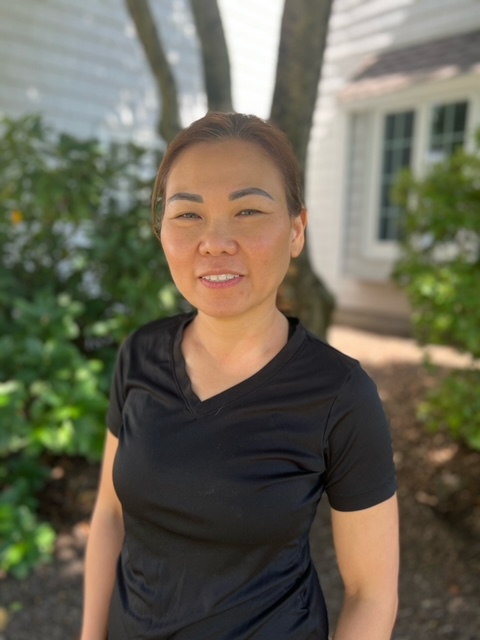 Sue Lin, LMT
Sue Lin is a graduate of Georgia Massage School and currently in good standing with ABMP. Originally from Malaysia, together with her family, she has moved and lived across all four time zones in the United States for over 20 years. Reflecting on her upbringing, where her family regularly and consistently incorporated massages as part of a healthy mind, body and spirit healing routine, she was inspired to become a Massage Therapist herself. She is a firm believer that the power of intentional touch can help with almost anything. Sue Lin incorporates a variety of modalities in her practice. Her techniques include, but are not limited to: Deep Tissue, Swedish relaxation, Myofascial Release, and Pregnancy massage. She loves corrective work and is continually pursuing deeper understanding in these techniques; recently she completed Functional Anatomy coursework covering low back, hip, shoulder, and rotator cuff by Allison Denney, the YouTube icon The Rebel Massage Therapist; and is in the process of completing Orthopedic Massage online certification course by Whitney Lowe. Sue Lin is also certified in Cupping. With Freedom Massage, she has completed private trainings in Integrated Manual Therapy and Orthopedic Massage with instructor James Waslaski; as well as The OHASHI Method®Bodywork and The OHASHI Method® for a Healthy Pregnancy, with Master Ohashi. Ultimately, her goal is always to put the desires of her clients first. She is so excited to be a part of the Freedom Massage family and looks forward to learning and delivering more in this ever-evolving industry.
Sue Lin's Hours: Tuesday – Thursday daytime: 9:30a-2:30p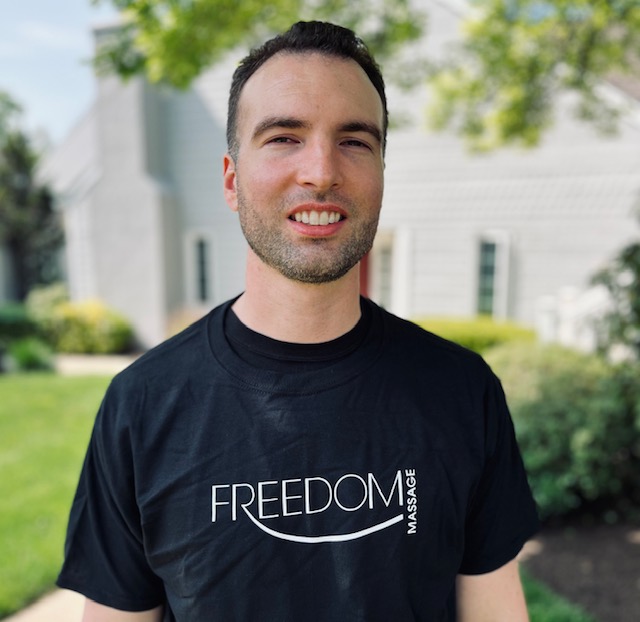 Will, LMT
Check back soon for Will's bio!
Will's Hours: Tuesday – Friday: 3:00-8:30p. Every other Saturday.
JOIN OUR TEAM
Interested in joining a team of award winning therapists?