Meet the Therapists & Staff
All massage therapists at Freedom Massage receive additional and extensive training from Diane the owner who has been doing bodywork for over 20 years. As a group we work with one another to encourage our strengths and become a stronger team. We never stop growing, learning, and sharing our findings with one another.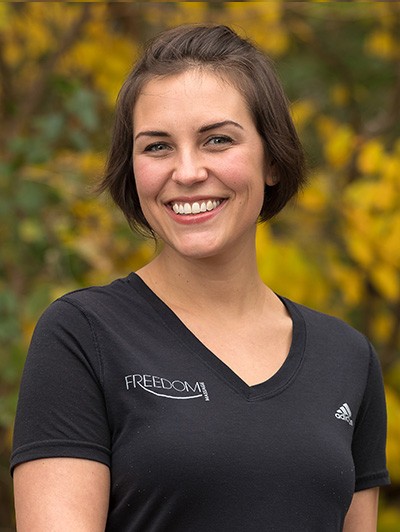 Alicia, LMT
Alicia has been practicing massage for over six years. She became Nationally Certified in Therapeutic Massage and Bodywork in 2011 and is a member of ABMP. In pursuit of a more advanced knowledge of corrective modalities, Alicia completed Cross Fiber Techniques, and she also completed Yin Myofascial Integration Immersion, both through Integrated Natural Health. She is an avid reader and is continually exploring models of wellness and balance across cultures, disciplines and therapeutic practices in order to bring deeper insight into each session. Alicia provides Swedish relaxation, Deep tissue, the Freedom massage, Pregnancy sessions, and uses techniques from the classes listed above. Alicia is passionate about helping clients both work through "issues" with which they present each session as well as achieve a deeper connection to their bodies and experiences. After a bit of a search she has happily landed at Freedom Massage and likes how it has "the best of" everything she loves about massage.  She is busy, so if you want to work with her book out your appointments!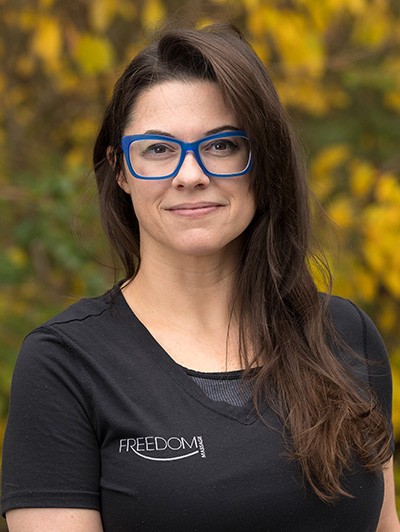 Emily, LMT
Emily's focus is our female clientele.  She is our Oncology Massage Specialist and Women's Healthcare Advocate.  A graduate of Cortiva Institute, Emily is certified in Trigger Point Therapy. She is also a certified Oncology Massage Practitioner (Certification course approved by Society for Oncology Massage S4OM.org). Emily has completed Levels I & II Usui Reiki and finished the Advanced Usui teaching as well. She provides Oncology massage, Swedish relaxation massage, Deep tissue massage, and the Freedom massage. Emily's soothing massage and slower pace will leave you feeling relaxed and renewed, all while still getting relief from tight muscles. Clients who see her keep coming back, so be sure to book out several appointments when you come for your first visit!  Emily loves what she does and you will see the excitement she exudes when you arrive.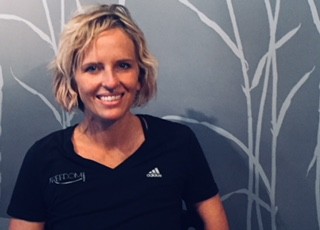 Lauren, LMT
Lauren, LMT
Our team is thrilled Lauren has joined us.  Lauren is a graduate of the Cortiva Institute. She is new to Freedom Massage, though she is not new to massage. Her massage is solid from head to toe. Book with her now!  Her appointments will not last.  She has been with us a week and is already filling. More on Lauren soon….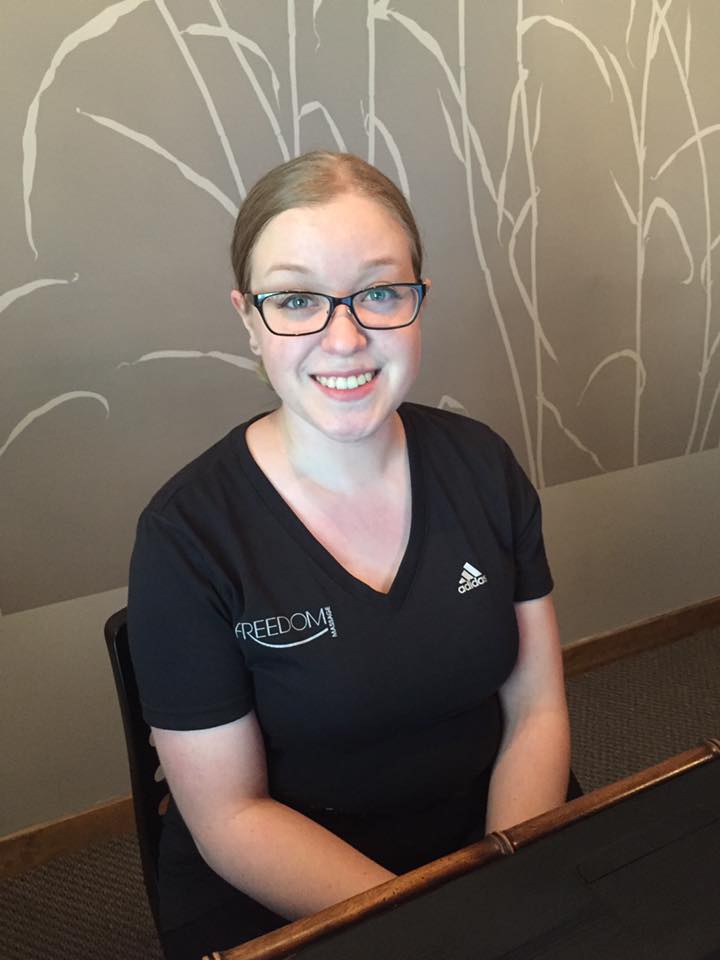 Jennifer, LMT
Jen's photo is coming soon! Jen is a graduate of Cortiva Institute and a member in good standing with the American Massage Therapy Association (AMTA). One of the things that drew her to a career in massage therapy, and eventually here to Freedom Massage, is her desire to help others feel their absolute best. Her classmates voted her foot massage as Best in Class, and one teacher stated that "she was clearly born to massage." Jen is the newest member of our team here at Freedom, and she is so happy to be here! She performs Swedish relaxation massage, deep tissue massage, and the Freedom Massage. Her cheerful, compassionate nature and intuitive sense of touch will have you completely relaxed and ready for an amazing session in no time! Schedule an appointment with her now, as her book fills up quickly.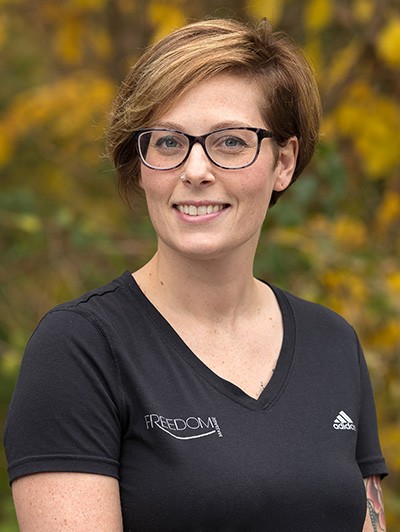 Jessica, LMT
Jessica is a LMT who graduated from the Cortiva Institute, and is a member of AMTA. She received a certification in Vedic Thai Yoga Massage taught by Michael Buck an ambassador of the technique Thai Yoga bodywork. Jessica is a well- rounded therapist with a firm, intuitive touch. She believes in the importance of movement and stretching for overall health and well-being. Upon request, she will blend all the best aspects of Swedish/Deep tissue , and will add subtle hints of the Thai Yoga bodywork. Jessica provides Swedish relaxation, Deep tissue, the Freedom massage, Thai on the Table, and Pregnancy sessions. Jessica knew she wanted to join Freedom Massage after hearing the owner speak to her class and has found a home for her excellent skill set. As Jessica says, "Take time to care for your body and your body will take care of you!"  Jessica has a solid following, because her massage is awesome!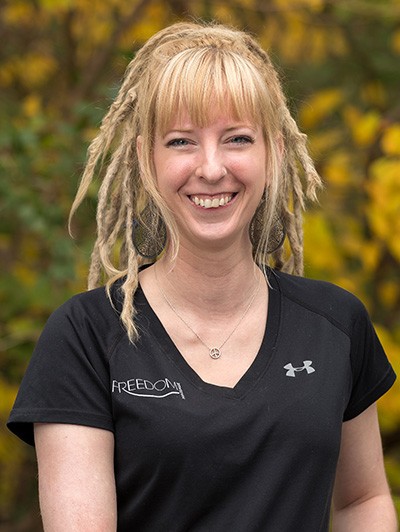 Michelle, LMT
Michelle graduated from Cortiva Institute, and is a member of AMTA. She was voted BEST in class by teachers and peers. Michelle has great compassion and understanding. She will put you in a state of relaxation helping your body to heal itself. Her skilled usage of forearms and elbows allow her to attend to clients who request Deep tissue bodywork. Michelle's free spirit, passion to grow, and to please others shines through in her bodywork. Her giggle and smile are contagious and they will leave you feeling right at home here at Freedom Massage. She completed a Thai Yoga bodywork class with the Vedic Conservatory in Feb 2016 and does do some work on the table. Michelle provides Swedish, Deep tissue, the Freedom massage, and Pregnancy sessions. Michelle knew she would work at Freedom Massage before she even graduated school. Now here, she has become a powerful creator attracting a solid book of massage.  Her laugh is contagious and her session incredible.  Don't let her size fool you– she is strong.  Get on her schedule her appointments fill quickly.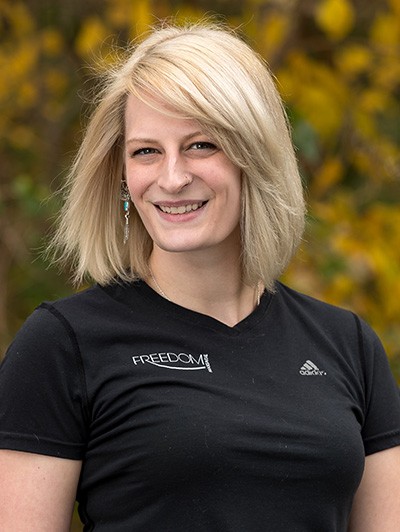 Molly, LMT
Molly was inspired by the healing and comforting effects of massage. She is a graduate of Cortiva Institute. Molly went from a career as a cosmetologist to a fulfilling life as a licensed massage therapist. She has a background in both Swedish and Deep tissue work with a style that is relaxing and restorative. She will provide you with power and grace. Molly provides Swedish massage, Deep tissue, and the Freedom massage. She is also a certified Oncology Massage Practitioner (Certification course approved by Society for Oncology Massage S4OM.org)  Since joining the team she has been getting rave reviews and is a great resource in our community outreach events.  She is a solid therapist.  Molly met Diane at the Cortiva Institute and knew Freedom Massage was the place she wanted to work.  She is a solid member, and her book is filling quickly— get in with her now!  Molly is strong, but will also put you in a trance.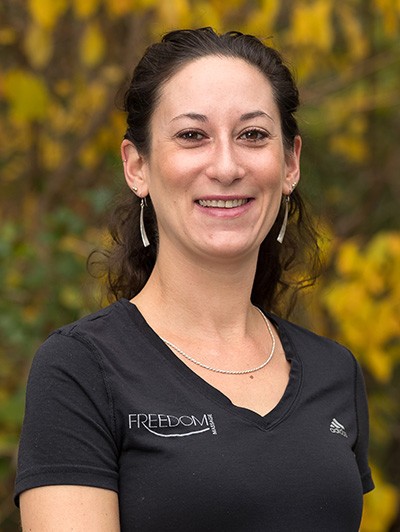 Sarah, LMT
Sarah graduated from Cortiva Institute, and is a member of AMTA. After a decade of working retail, Sarah decided she needed a career that felt more meaningful, something to bring her back to her early roots as a dancer. Through practicing the art of bodywork, Sarah has found a renewed connection to her love of bodies, movement, the mind, and how these work together. Sarah can provide Swedish massage, Deep tissue, and Pregnancy sessions. She is also comfortable working with minors, and loves to help clients (especially those new to massage!) feel understood, comfortable, and prepared for receiving a great bodywork session. She is so happy she found Freedom right away upon graduation, and is honored and proud to call "The Freedom Family" her own.  She is a joy to be around, clients love her, and she has created steady following at Freedom Massage.